Walk-in Bathtubs
Infinite Designs is the area's leader in installing walk-in tubs. We take pride in helping to keep people independent in their own homes as long as possible, and functioning as inexpensively as possible, especially with bathing needs. One way to assist a loved one in remaining independent is by installing a walk-in tub. We can install a walk-in tub to fit into any standard bathtub space. Installation can be completed in as little as one day.
---
---
Benefits of Installing a Walk-in Tub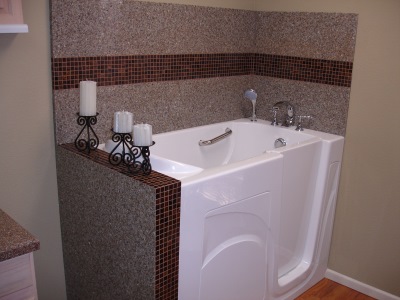 Safety – Transfer to and from your tub through a watertight door with a low threshold
Comfort – Elevated seating is standard, as are comfortable grab bars
Therapeutic - Excellent stroke survivors, those with back problems, hip and leg issues, diabetes or poor circulation
Beauty – High gloss finish and gleaming stainless fixtures
Ease – Nonporous surface is mildew resistant and easy to clean
Our Process for Installing a Walk-In Bathtub
First, we'll remove your old bathtub.
Next, we'll assess your plumbing needs and make any necessary repairs or adjustments
After you've chosen the model that best suits your needs, we'll install your new walk-in tub.
We'll fully test the system to make sure it is working properly, and demonstrate how to operate it.
If you have chosen a walk-in tub that is smaller than your current opening, we'll fill in space for you
Additional grab bars, an elevated toilet seat, and any other bathroom adaptations can also be made.
Walk-In Tubs At A Fair Price
Walk-in tubs can vary greatly in terms of price and quality. Infinite Designs will help you choose the best tub for your unique needs. We take great pride in our honesty and integrity. All of the walk-in tubs we install come with a lifetime warranty for parts and labor. Customers who require handicapped bathrooms or accommodations to make their bathrooms more accessible want to make this process as simple and affordable as possible. We guarantee it!
---
Call for Fast FREE Quote
---