Walk in Bathtubs in Richmond, Texas
Infinite Designs has been installing walk in tubs for years. We take pride in assisting to keep people independent in their own homes for as long as possible. One simple way to help a loved one remain in their Richmond home is installing a walk in bathtub. Our tubs fit into any standard bathtub space and are installed quickly and professionally by our Richmond bathroom remodelers.
---
Call for a FREE Quote
---
Benefits of Installing a Walk in Tub in Richmond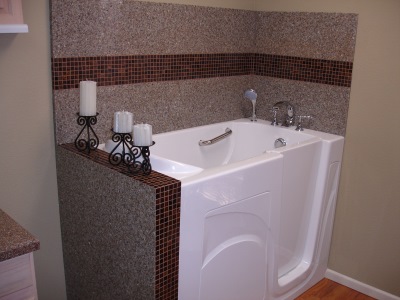 Safety – Transfer to and from your tub through a watertight door with a low threshold
Comfort – Elevated seating is standard, as are comfortable grab bars
Therapeutic - Excellent for stroke survivors, those with back problems, hip and leg issues, diabetes or poor circulation
Beauty – High gloss finish and gleaming stainless fixtures
Ease – Nonporous surface is mildew resistant and easy to clean
Walk In Tubs At A Fair Price
Walk in tubs vary greatly in terms of quality and price. Infinite Designs will help you choose the best tub for your unique needs and your budget. We take great pride in our honesty and integrity. You will not be overcharged for parts or labor when you use Infinite Designs we treat all customers as we would our own family. Folks who require handicapped restrooms in Texas or accommodations to make their restrooms more accessible are already going through a great deal in terms of life adjustments and expenses. We want to make this process as simple and affordable as possible.
Quick, Cost-Effective Walk-in Tub Installation
Our Richmond bathroom remodeling experts have been installing walk in tubs throughout Richmond for years. They fit into a standard bathtub opening and the plumbing is very similar to that of a standard tub.
Our Process for Installing a Walk In Bathtub in Richmond
First, we'll remove your old bathtub.
Next, we'll assess your plumbing needs and make any necessary repairs or adjustments
After you've chosen the model that best suits your needs, we'll install your new walk in tub.
We'll fully test the system to make sure it is working properly, and demonstrate how to operate it.
If you have chosen a walk in tub that is smaller than your current opening, we'll fill in the space for you
Additional grab bars, an elevated toilet seat and any other bathroom adaptations can also be made.
The Acrylic Difference
Infinite Designs proudly installs Acrylic walk in tubs throughout Richmond. We love acrylic walk ins over fiberglass tubs for many reasons, including:
Nonporous surface
Mildew resistant
Scratch resistant
High gloss, easy to clean finish
Strong and durable
Many colors and styles to choose from
---
Call for FREE Walk in Bathtubs Quote
---
WHAT CUSTOMERS ARE SAYING:
5★★★★★ - "Alex and his team are so awesome! The shower remodeled in my home was professionally done and absolutely beautiful. Alex is very "hands on" and detail-oriented. His responsiveness to my needs has been phenomenal. I will definitely use Infinite Designs again and encourage you to do so as well."

Ms Sheila in Richmond, TX

2020-07-13

5★★★★★ - "Alex and Nadia and Franco are very professional and polite and built my shed quickly and solidly. They had to work with our existing little pavillion which was a little wonky, but it turned out exactly how I pictured it. They arrived at the time they said, and finished the project in less time than I expected. Great to work with!"

Susie, Shed Building in Richmond, TX

2018-06-06

5★★★★★ - "Alex did a wonderful job, we hired him to paint my sons room and ended up painting the entire indoor of our home. Thank you Alex for your excellent service."

Karen, Painting in Richmond, TX

5★★★★★ - "Alex showed up on time, supervised his workers, did excellent workmanship, was willing to listen to what we wanted, & quoted a very reasonable price. Personally, he treated us like family & would give his opinion about designs & colors when other workers would have said: "it's up to you". His wife Nadia went out of her way to help us; for example, she met us at the tile place with her 4 kids because we were having trouble picking out the granite & she came immediately when we had concerns about the wallpaper. We hired them to remodel our master bath, but their work was so outstanding, we added MANY other projects. We interviewed 4 companies & highly recommend Alex."

Terry & Fred Felcman in Rosenberg, TX

2021-10-05

5★★★★★ - "Alex, Nadia, and their team were great to work with! They were very friendly and extremely professional throughout our entire shower remodel. We were very particular about them following certain procedures to make us feel safe in our home during this Covid time period, and they were very respectful of our wishes. Our work was done in the time they quoted and we love the end product! We would highly recommend Infinite Designs for your work! We will definitely be hiring them for additional projects in our home."

Kathy in Katy, TX

2020-10-22

5★★★★★ - "I needed a deck re-built, boards replaced and needed a darn good carpenter. Alex and his team did a great job, fast and fair and when finished it looked brand new. They were tidy and cleaned everything up, always on time and finished the job when promised. Highly recommend them for the work at your house."

Bob in Howellville, TX

2020-08-19

5★★★★★ - "Alex and Nadia and Franco are very professional and polite and built my shed quickly and solidly. They had to work with our existing little pavilion which was a little wonky, but it turned out exactly how I pictured it. They arrived at the time they said and finished the project in less time than I expected. Great to work with!"

Susie C., Carpentry in Aliana, TX

2019-10-21

5★★★★★ - "Alex and Nadia were wonderful to work with. They did almost an entire house renovation for us including new texture and paint on walls and ceilings, installation of all new floor (tile and carpet), wall removal, kitchen remodel, custom bathroom vanity, custom mudroom bench, installation of new windows and sliding doors, refinishing banister, painting and installing all-new doors, demo of old and installation of new patio cover and more. They were very professional and kept us updated every step of the way. We appreciated their communication, dedication and drive throughout the whole process. They were fun to work with and they did an excellent job."

Lindsay J., Remodeling Services in Sugar Land, TX

2019-10-21

5★★★★★ - "Alex did a great job building a gorgeous wainscoting, adding so much character to what it used to be a boring grey wall."

Michele C, Painting in Pearland, TX

2019-01-11

5★★★★★ - "I called to have my bathroom wall done. Alex told me it would take two days. He came and did the job in one day and did a great job. The bathroom looks great and my family loves it.Very professional and did a great job from beginning to end. I will use them again on my next remodeling project."

Consuelo, Bathroom Remodeling in Rosenberg, TX

2018-12-17

5★★★★★ - "We found a great professional to complete our bathtub to shower conversion after two previous disasters with contractors. Thank you, Alex, Nadia, and John for a job well done!"

Terri, Bathroom Remodeling in Houston, TX

2018-05-14

5★★★★★ - "Mr. Alex and Nadia have been super polite and professional , their quick response is so great!! They installed a bathroom cabinet and the hardware for our kitchen cabinets and they look amazing !!! I will definitely hire them again for our next project!!!!"

C. Rodriguez in Rosenberg, TX

5★★★★★ - "They sanded some marble in my shower. Did a perfect job. Looks great. The gold from the shower door had stained the marble. They got it all out!"

Dorothy in Katy, TX

5★★★★★ - "Alex and Nadia from infinite designs are the real deal. Easy to work with, professional and responsive. Highly recommend this company!"

Diane

5★★★★★ - "My husband and i hired infinite designs for our bathroom and kitchen renovation. Alex did a great job at explaining each step of the renovation and everything was done at a timely manner. Our friends and family are absolutely amazed by the change of our home. We highly recommend Infinite designs. Thank you Alex for the great work."

Anonymous, Bathroom and Kitchen Remodeling in Katy, TX

2017-01-23
---
Call for FREE Walk in Bathtubs Quote
---