Residential & Commercial Remodeling
Serving the Katy, Richmond, & Greater Houston Areas
Infinite Designs has been a professional Remodeling Contractor in Houston, Katy, and surrounding areas for 9 years. Whether you are searching for residential kitchen remodeling or Katy bathroom remodeling, or commercial remodeling services, Infinite Designs is the remodeling and home improvement company customers call for exceptional renovation services!
---
Call for a FREE Quote
---
$200 OFF
Kitchen Renovation Projects
Projects over $4,000+ | Expires 12/31/2023
Highly Rated & Recommended
★★★★★
"My husband and I hired infinite designs for our bathroom and kitchen renovation. Alex did a great job at explaining each step of the renovation and everything was done in a timely manner. Our friends and family are absolutely amazed by the change in our home. We highly recommend Infinite Designs. Thank you, Alex"
- Claire
★★★★★
"Alex and Nadia and Franco are very professional and polite and built my shed quickly and solidly. They had to work with our existing little pavilion which was a little wonky, but it turned out exactly how I pictured it. They arrived at the time they said and finished the project in less time than I expected. Great to work with!"
- Susie Curry
★★★★★
"Alex and his team are so awesome! The shower remodeled in my home was professionally done and absolutely beautiful. Alex is very "hands-on" and detail-oriented. His responsiveness to my needs has been phenomenal. I will definitely use Infinite Designs again and encourage you to do so as well."
- Sheila Shackelford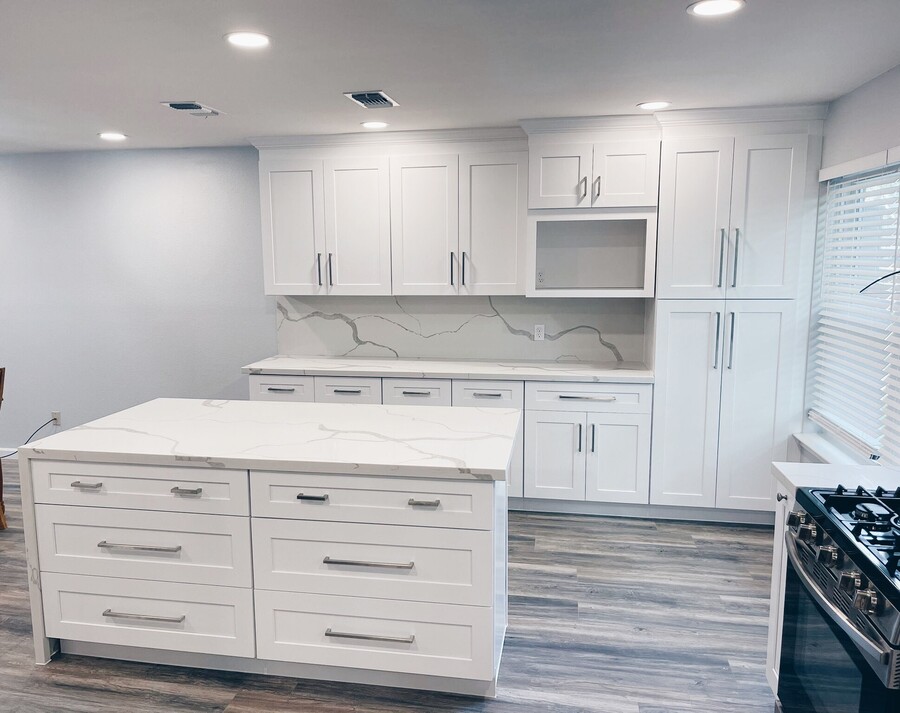 Why Choose Infinite Designs?
Infinite Designs is a leading remodeler in Houston, offering a wide range of services to homeowners looking to improve their homes. From kitchen and bathroom remodeling to complete home renovations, Infinite Designs has the experience and expertise to get the job done right.
Infinite Designs has been in business for over 9 years and has built a strong reputation for quality workmanship and customer service. Our team of experienced professionals is dedicated to providing the highest quality of service and results to our customers. We take great pride in our work and strive to exceed expectations with every project.
High-Quality Craftsmanship
for Every Project Detail
Unmatched Customer Service
Combined with Dedicated Timelines
Accessible from Initial Phone Call
until Final Cleanup Days on Site
Proudly Serving our Local Community with Tailored Schedules & Budget-Friendly Prices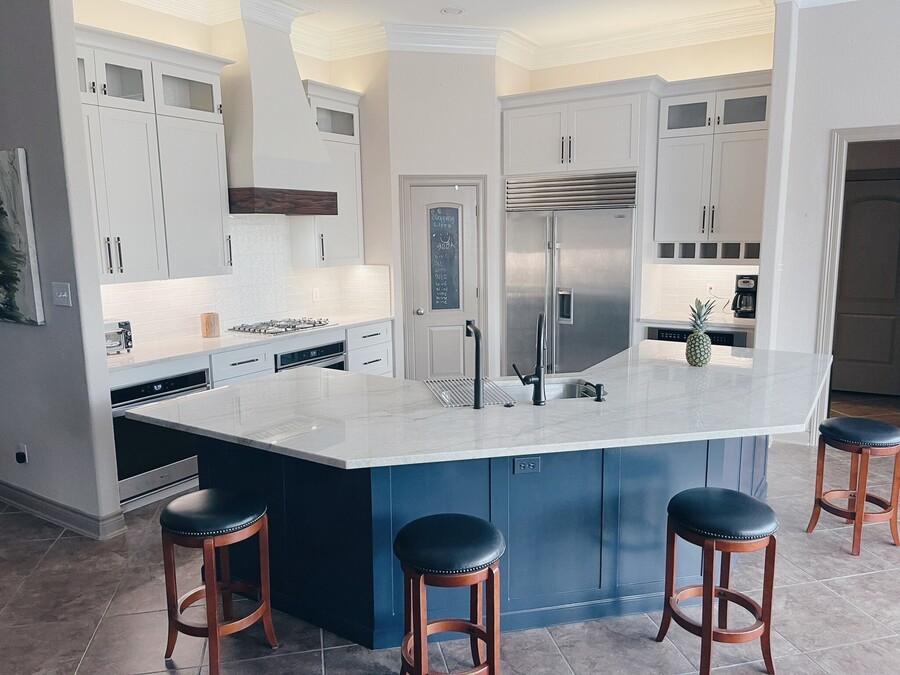 Professional Remodeling Services Tailored To You
Our team is comprised of experienced craftsmen and designers who are passionate about creating beautiful and functional spaces. We specialize in painting, kitchen and bathroom remodeling, tile work, flooring, custom cabinetry, and more. We are committed to providing our customers with the best experience possible.

Granite countertops, stainless steel appliances, custom islands, and quality flooring can be yours. From start to finish, Infinite Designs can expertly handle every aspect of your remodeling project. Infinite Designs offers custom cabinetry that reflects your style and that fits your space.
For a premium commercial remodeling area, look no further than Infinite Designs. We have built our solid reputation on many years of consistent, professional building remodeling services. We can increase the physical appearance and functionality of your commercial or retail building.
Boost the value of your home by updating your bathroom. Infinite Designs can provide all of your bathroom remodeling needs, including flooring, custom cabinetry, and tiles.
From the interior of homes to the exterior of office buildings, we do it all! If you want to refinish your kitchen cabinets as a part of an economical kitchen makeover, give us a call.
Frequently Asked Questions (FAQ's)
How long have you been in business?
Infinite Designs has been in business for over 7 years, however Alex our CEO has been in construction for over 17 years.
Do you have insurance?
Yes, we count on all required insurance.
Will you pull permits & set up inspections if needed?
If permits & inspections are required for your project our team will be able to fill out all required paperwork, pull city permits and schedule inspections.
What is the timeframe you will complete our project?
We understand that timing is very important for our clients and as much as we would like to give a number of days the project will take, every project is different while we may have an accurate finish date, timing can be delayed right after demolition, and even during the reconstruction. All we can assure our clients is that our team will do everything possible to complete their projects in a timely manner.
What are the areas that you service?
Even though we are based in Houston TX, we service Katy TX, Cypress TX, Missouri TX, The Woodlands TX, and all surrounding areas.
Is there a dedicated team for my project?
Yes, a team of experts will be dedicated to your project.
Do you subcontract any of the services?
Yes, plumbing & electrical services are subcontracted.
What services do you offer?
We offer general contracting services, including but not limited to bathroom & kitchen renovations, indoor and outdoor painting, tile installation, framing & concrete services.
Do you offer free estimates?
Yes, we offer free estimates
Are you able to provide estimates if I send you pictures?
Unfortunately, we are not able to provide a quote without attending an in-home consultation. Our team will be able to take all accurate measurements and go over any questions that you may have, right after the consultation we will provide a detailed estimate via email.
---
Call for a FREE Quote
---